______
America's truckers have long been a group dominated by an independent spirit with livelihoods made on the highways and byways of a nation that would not run nearly as efficiently if not for their efforts.
President Biden is demanding they give in to a vaccine mandate or lose their jobs.
The truckers' collective response has been as aggressive as it was predictable. They are calling what the president is doing unconstitutional and are threatening to bring the nation's economy to a screeching halt if the president continues to demand citizens put something in their bodies they don't want and statistically don't need. (Covid has a 99.7+% survival rate)
Read on to learn more…
______
Via The Epoch Times:
American truckers don't like taking orders. But the Biden administration has increased pressure on some of them to take the vaccine—willing or unwilling.
All through the pandemic, truckers endured hardships to keep America's infrastructure running. They waited in line for hours in sight of bathrooms they weren't allowed to use. On the road, some died alone of COVID-19.
Now, with supply chains disrupted, Americans need them more than ever. But faced with the prospect of a mandated vaccination, many drivers are considering quitting.
"I'd fight it," said veteran trucker Mike Widdins, referring to vaccine mandates. "I think a lot of us will be quitting. Who likes to be forced to do stuff you don't want to do?"
If they quit, the consequences for America may be massive. US Transport estimates that 70 percent of American freight goes by truck.
For mandate-affected companies, Biden's decision may drive away employees at a time when America needs them most. The American Trucking Associations estimates that America needs 80,000 more truckers to meet transportation needs.
Recently, supply chain crises have left many Americans in need. Transportation secretary Pete Buttigieg said the shortage will last as long as there's a pandemic.
With backups unloading goods at America's ports, shortages already threaten consumers. But if long lines of trucks waiting to ship goods suddenly become shorter, the crisis will become far worse.
Whether America runs short on trucks depends on the Biden administration's orders and how truckers respond.
"It's unconstitutional," said one trucker who preferred to remain anonymous. "We'll just buy our own damn trucks and run our own company. All we've got to do is shut down and the country doesn't exist no more."
For many drivers, the vaccine mandate may prove the final straw. Some drivers don't trust the vaccine because of how new it is. Some distrust it for personal medical reasons. Others distrust it because they don't trust the government.
"I had cancer years ago," said trucker Jack McGregory. "I don't want to put something that I don't know exactly what it will do into my body. If I die, I want to die with a little more time on my hands than that."
McGregory said that he would rather quit than vaccinate.
But even those who take the vaccine say they oppose the mandate.
At the Pilot Truck Stop at I-69 and Wadhams Road in Michigan, all 10 truckers interviewed by The Epoch Times said they took the vaccine but oppose a vaccine mandate.
Kevin Hambrick, a longtime driver with Fortune 500 transportation company J.B. Hunt, opposes the mandate.
"Each guy should make his own choice," Hambrick said.
In Arizona, Florida-based truck driver Juan Martinez said that he knows life without freedom, having lived under Cuban communism. He also received a COVID-19 shot and opposes the mandate.
"You have to decide for yourself," he said. "People should do whatever they want to do."
Many drivers feel pressured by their employers. After a year of difficult pandemic restrictions, it seems to them that COVID-19 rules grow ever more invasive.
In Flagstaff, Arizona, a long-distance truck driver in his late 20s asked not to be identified, fearing reprisal by his employer.
"There's no place in the middle right now," he said, adding "if you want to put something in your body, it's your personal choice."
Other truckers who did not want to be named said they felt angry at those who mandated the vaccine.
"We run our country," one said. "They don't give a [expletive] about this country."
Neither the White House nor the Department of Transportation responded to repeated requests for comment on this story.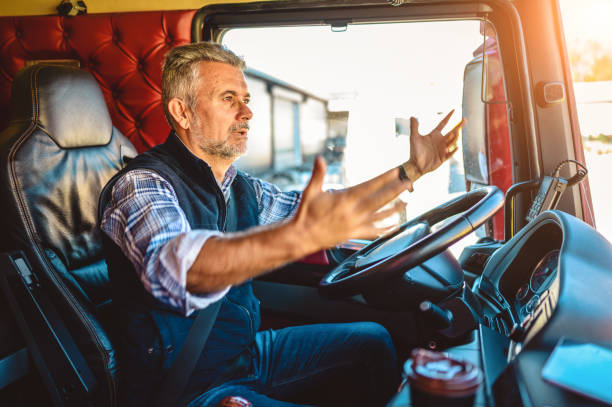 ______
(Visited 358 times, 1 visits today)